Note: This is a review of the medium-sized Skoshbox, also called "Dekabox."
It's been 6 months since I received my third and final subscription box of Japanese snacks from Tokyo Otaku Mode. My apologies for the late review.
Like the previous boxes I received, the Skoshbox had some hits and misses. I discovered during my membership that I prefer the sweeter side of Japan rather than the savory.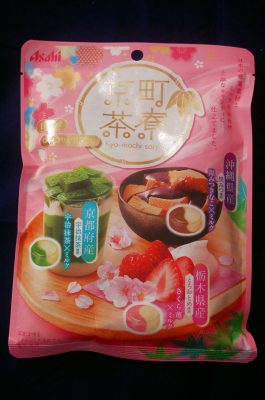 My favorite from the September 2017 box is this full bag of hard candies, or Kyo-Machi Saryo. The bag contains three flavors: sweet roasted soy, sakura strawberry, and matcha milk. The varieties are unique and creamy.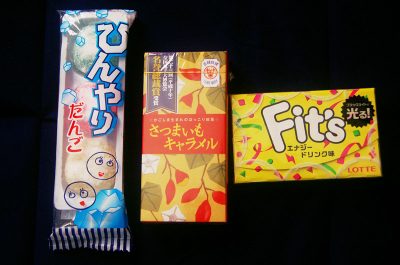 (from left) Hinyari Dango is a trio of soda-inspired gummies drenched in powder sugar. The presentation was pretty but messy! A classic looking rectangular box contained a number of wrapped sweet potato caramels. The wrapping was hard to remove until I realized it's an edible starch! So the thin plastic-tasting coating mixed with sugary sweet potato made for an odd culinary experience. Strangely enjoyable. I also received a pack of Fits Energy Drink Gum. The gum strips have a tropical flavor and has a taste much like the gum you would find in a pack of baseball cards.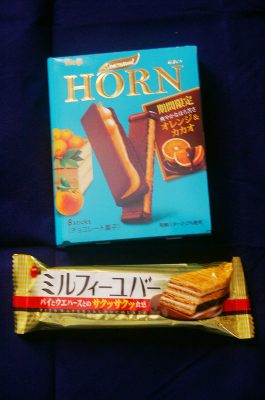 The cookie monster in me danced with joy when it came to the chocolate offerings in my final Skoshbox. The cocoa and orange sticks by Horn were an instant favorite. Think chocolate wafers with orange icing in the middle with a bonus chocolate glaze on top. They were individually wrapped as well, so I got to share them with friends. And speaking of chocolate wafers, the Mille Feuille bar contained both cocoa and vanilla in multiple layers.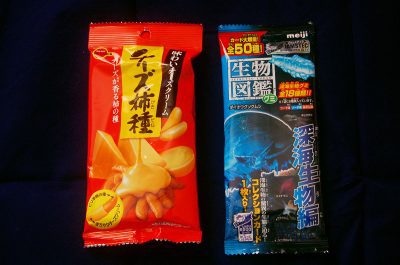 Because of the summer heat, the cheesy Kaki No Tane rice crackers congealed together in the package instead of looking like bite sized pieces. And after a tiny bite, I wasn't impressed with the combination of rice cracker, soy sauce, and the flavor of canned cheese.
The Seibutsu Zukan sea creature gummies were really cute albeit chewy. The flavors were soda related, like cola and orange. The package even contained a cuttlefish trading card with information in Japanese.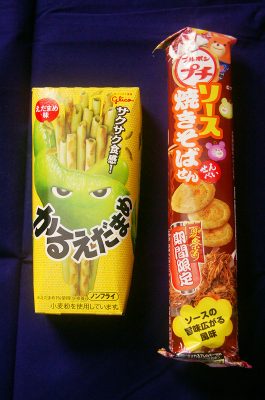 Not all snacks are winners. I present to you my two least favorite snacks of the September 2017 Dekabox. I didn't bother trying the Karo Edamame sticks (I assumed they tasted like vegetable Pocky and I was in no mood for that). I never had much luck with Yakisoba Senbei crackers. The pack provided is fried noodle flavored, but all I could smell was cat food.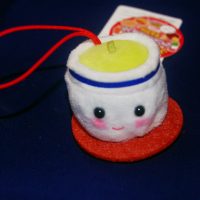 Every Dekabox comes with a non-snack. The September 2017 Dekabox gifted customers with Puchi Maru Kawaii Wagashi, plush toys shaped like confections. The one I received looks like a cup of matcha/green tea. Isn't it cute?
Subscribers also received a bonus plushie in September. I was so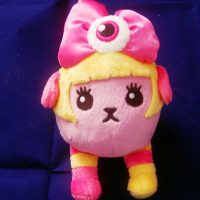 confused as to the story behind the pink plushie and the internet informed me of a popular toy called a "mameshiba." Mameshiba are characters with faces that look like dogs. This particular pink plushie is inspired by Kyary Pamyu Pamyu, who is a famous singer and model in Japan: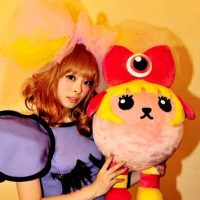 For $20+ for the medium tier box, Skoshbox was a fun splurge and I was introduced to some amazing treats from another country. I was not a fan of their meaty rice crackers and chips, but the cookies and candy made up for it.
Read my reviews for the other Skoshboxes from my 3-month subscription:
July 2017 Dekabox
August 2017 Dekabox
UPDATE: As of April 2018, Tokyo Otaku Mode no longer offers Skoshbox subscriptions.