As you can tell, I'm traveling back in time a little to bring you my thoughts and pictures of my snack box from Tokyo Otaku Mode. This one is from the summer, August 2017 to be exact! Forgive me for hitting the snooze button on this one! As I mentioned in my post regarding the July 2017 Skoshbox, I purchased a 3 month subscription to the Dekabox, which is the middle tier of the Japanese snack box. With this being my second box, I quickly learned that when it comes to Asian treats, I most enjoy the fruity flavored candies over the savory snacks.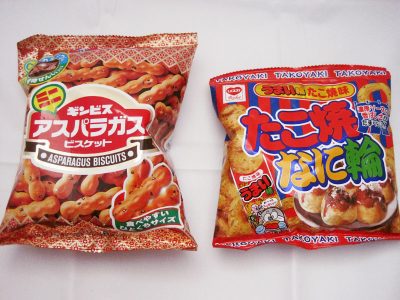 To start things off, can we talk about Asparagus Biscuits? I know that may not sound appealing, and I was highly suspicious at the title alone. The sole reason they are referred as asparagus has nothing to do with ingredients but their appearance. These crunchy biscuits have a lightly sweet cookie flavor, similar to animal crackers. As an added bonus, they are sprinkled with sesame seeds! I was surprised at the amount of biscuits in a single bag and was sad to reach the last piece.
Takoyaki flavored corn puff rings carry the typical Asian pairing of sweet and savory. They weren't a personal favorite but I wonder if they would make a great outer crust layer for a casserole…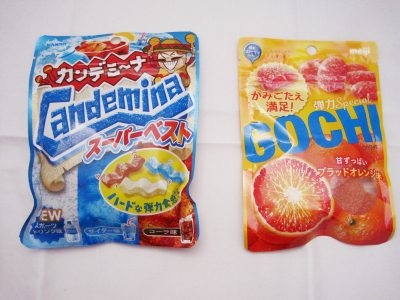 When Japanese gummies attack, I am happy! Candemina Super Best gummies are described as "extra firm" and come in soda, cola, and melon flavors. I like the wavy strip shapes and their sugar glaze. Gochi blood orange gummies are also sugar dipped like the popular orange slices in America, but the flavor is more tart. The best part of both packages is the ziploc feature, although it's easy to eat every gummy in a single sitting!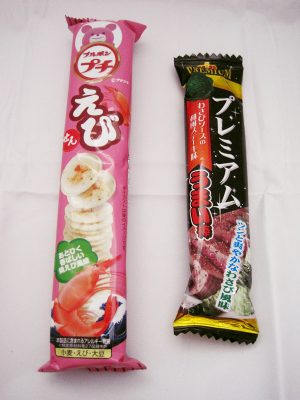 I can't say a lot about these snacks. The pink package known as Puchi Ebi Senbei, or ebisen shrimp crackers, contains a small tray of thin white wafers. The shrimp flavor is accurate, but the smell resembles cat food. The same can be said for the Japanese-style steak-flavored puff stick, or Premium Umaibo. The scents were too funky and overpowering.
Happy Turn rice crackers are sweet and salty and look like ladyfinger cookies. Their flavor is somewhat plain. What isn't lacking in flavor is Fran strawberry biscuit sticks with cream. If you like Pocky sticks, the Fran brand isn't too different. The box contains 3 packages of sticks and the cream icing is sweet and buttery.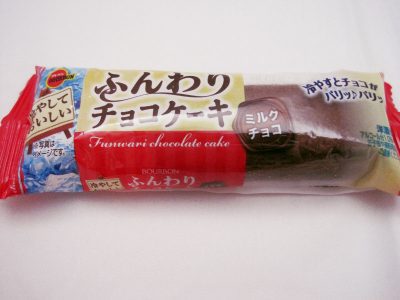 Funwari cake is straight up magical. This chocolate cake is the perfect size and packaged fresh like a Little Debbie cookie. The multi layers of cocoa filling and sponge-y cake makes it extra decadent. I realize now that all I need in this life are Funwari cakes and Asparagus biscuits!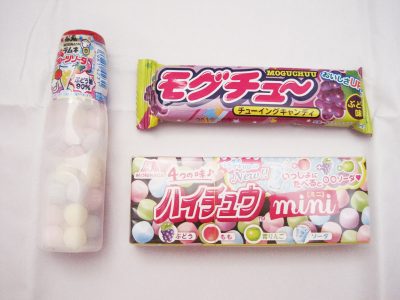 Rounding out the rest of the snackbox are a few more fruity candies. Hi-Chews are easy to spot in grocery stores in my hometown but this was my first time trying the miniature bites. They were soft, sweet, and of course, chewy! Mogu-Chew grape candy follows the same suit but has a chewy texture close to the popular Now and Later taffy. Ramune is a popular soda in a sleek bottle, and their chalky candy also appears in a nifty little bottle. I loved all 3 of them!
Each Dekabox includes a special accessory. In August, I got a giant, shiny refrigerator magnet of a 10,000 yen banknote! In case you're wondering, the bill shows a picture of Yukichi Fukuzawa, a regarded figure in Japan for his views on government and civil rights during the late 1800s. 10,000 yen equals about 88 US dollars.
If you interested in purchasing your own subscription to Skoshbox, visit Tokyo Otaku Mode's website for more information!
You can read my review of the July 2017 Dekabox here!
UPDATE: As of April 2018, Tokyo Otaku Mode no longer offers Skoshbox subscriptions.