There's a running joke in my family that we declare some weeknight dinners as "clean-out-the-kitchen-night", meaning we make meals using leftover ingredients or foods near expiration. It's an effective way to clean up, and to also get creative!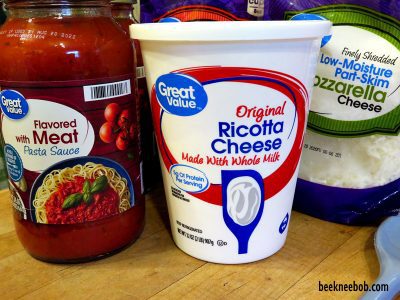 I had some leftover ricotta cheese from a lasagna recipe last month, and so I thought I'd make some pasta. I love ricotta cheese mixed in pasta sauce! It makes the dish so creamy, and the color is quite luxurious.
To my general staples of elbow macaroni, tomato sauce, and shredded cheese, I also found some pork sausage in my freezer. I'm accustomed to incorporating hamburger meat to spaghetti and lasagna, but sausage makes a good substitute and adds extra flavor.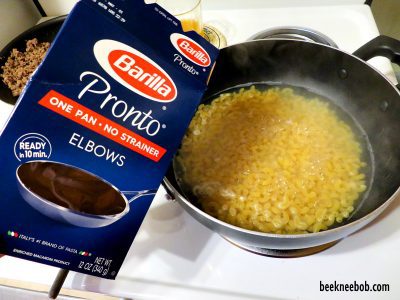 For this particular weeknight meal, I cooked a box of Barilla Pronto macaroni. I cannot recommend Barilla Pronto products enough! All you have to do is add water, and the noodles absorb everything so you don't have to drain. How convenient is that?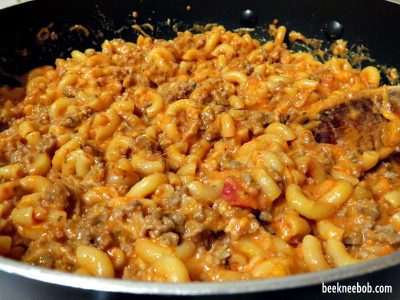 Once the noodles and the sausage cook (separately), you can begin combining. For this recipe, I recommend using a deep skillet or a large cooking pot so you have room to mix! From the sauce to the cheese to the sausage, the grand finale resulted in a mighty macaroni dish that my family could dig into.
This one pot ricotta pasta tasted just as scrumptious when reheated the following day. I had a lot of fun putting this together, and it just goes to show you how versatile pasta is. This dish can be used with any type of noodle, pasta sauce, cheese, and meat. Add vegetables too if you want! You never know what kind of amazing dish awaits you when you take inventory of your fridge and pantry!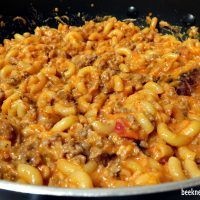 Print Recipe
One Pot Ricotta Pasta
A customized pasta of noodles, sauce, meat, and cheese!
Ingredients
12

oz

dry pasta

8

oz

ricotta cheese

(1 cup)

24

oz

pasta sauce

1

pound

pork sausage or ground beef

1/2

cup

shredded sharp cheddar cheese

1/2

cup

shredded mozzarella cheese
Instructions
In a skillet, cook meat on low-medium heat until browned and crumbled and drain fat. Set aside.

In a deep skillet or large pot, prepare pasta according to package directions.

Turn heat on low, and stir in entire jar of pasta sauce over noodles. (Tip: Add 1/2 cup to 1 cup water to jar to remove all sauce and add extra moisture to pasta.)

Stir in ricotta cheese and shredded cheeses, followed by crumbled meat.

Turn off heat, and serve. Top with extra shredded cheese if desired.
Notes
I recommend using Barilla Pronto pasta, which allows you to cook noodles without draining. It's a time saver!
You can use any kind of shredded cheese or a single variety to equal 1 cup. Make this dish your own!
Add vegetables and omit meat for a vegetarian-based meal.
If you try this recipe, take a picture and use #beekneebob on social media!