I love a good casserole. The possibilities are endless and I just like the simplicity of 'cut and serve.' One dish, many flavors. And as time goes by, I learn most casserole leftovers taste even better the next day!
I found an awesome recipe from Taste of Home that combines popular Mexican flavors with a deep dish pizza crust. The casserole contains beef, taco sauce, refried beans, and lots of cheese. Taste of Home's "Deep-Dish Beef 'n' Bean Taco Pizza" calls for homemade dough, which is yummy but time-consuming to prepare. I was inspired to come up with a slightly different variation of the recipe that's way more convenient and includes my beloved taco rice from Knorr.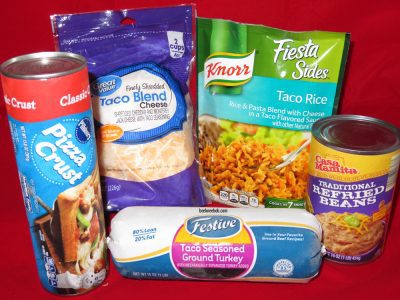 I used only five ingredients!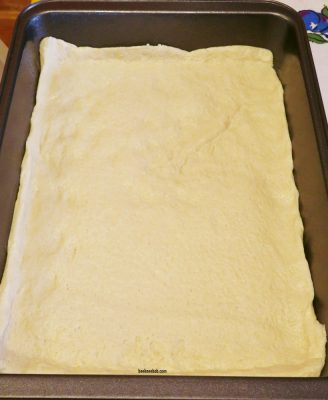 Instead of making my own pizza crust, I used a 13.8 oz tube of Classic Pizza Crust by Pillsbury. I pressed the dough in a 13.9 inch baking pan. This is layer one.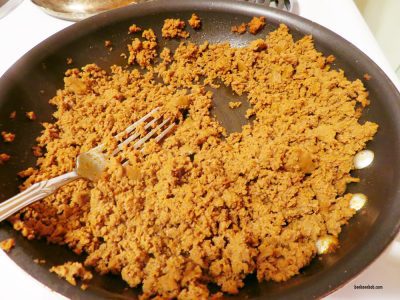 The original recipe calls for a pound of cooked ground beef with one envelope of taco seasoning. I found an amazing product of pre-seasoned ground turkey by Festive. I cooked the turkey over medium heat and drained the liquid afterwards.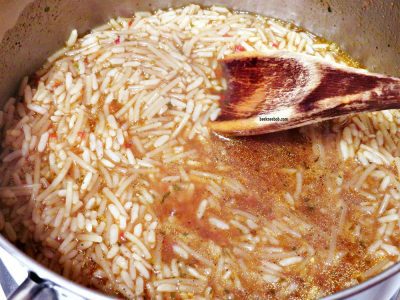 While the turkey cooked, I prepared the packaged Taco Rice blend by Knorr.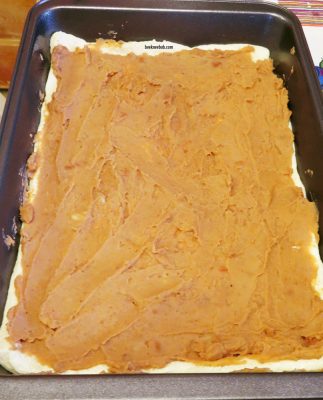 Meanwhile, I opened a 16 oz. can of refried beans, heated them in the microwave, and it became layer two when I spread the mixture over the pizza crust.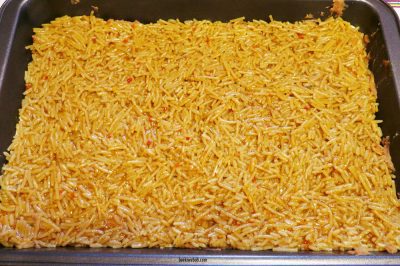 Once the rice finished cooking, I made it the third layer.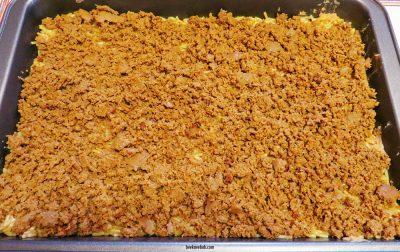 By this time, the taco-seasoned turkey was done. Layer number 4!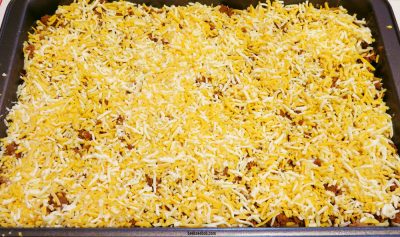 For the fifth and final layer, I used 2 cups of finely shredded Taco Cheese from Wal-Mart.
The casserole was ready for the oven! The dish was quite hefty. After 20 minutes, this was the result:
The crust was thick yet perfect for holding the ingredients together. The crust also made the beans, rice, cheese, and turkey incredibly filling. After one rectangle piece, I was practically stuffed!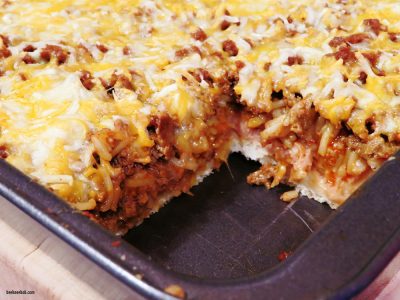 If I were to make the casserole again, I would consider adding taco sauce like the original recipe suggested in order to add more flavor and liquid as the ingredients were somewhat dry.
The price for all ingredients was $9!
Pizza Crust – $3
Cheese – $2
Beans – $1
Rice – $1
Turkey – $2
Just as I suspected, there was plenty left over for the next day and I enjoyed the taco flavors even more than I did when it was fresh from the oven. Let me know in the comments if you give this recipe a go!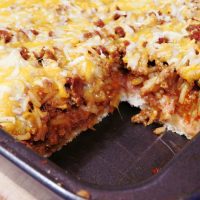 Print Recipe
Deep Dish Taco Casserole
Your favorite taco ingredients in casserole form!
Ingredients
16

oz

refrigerated deep dish pizza dough

(1 tube)

1

lb

ground beef or turkey

1

envelope

taco seasoning

16

oz

refried beans

1

Knorr Taco Rice mix

2

cups

shredded cheese

1/3

cup

taco sauce

(optional)
Instructions
Preheat oven to 400 degrees Fahrenheit. In a small skillet over medium heat, cook, stir, and crumble meat until not longer pink. Drain. Add taco seasoning to meat along with 3/4 cup water. Cook and stir until thickened, about 2 minutes.

In a separate pan, prepare the Knorr Taco Rice dish according to instructions.

Press dough to fit a greased 13x9 inch baking pan. Microwave beans at 45 second intervals until warm and combine with taco sauce; spread over dough. Top with taco rice, followed by beef mixture and cheese. Bake on a lower oven rack until crust is golden and cheese is melted, 15-18 minutes. Let stand for 5 minutes before serving.
Notes
The original recipe can be found at https://www.tasteofhome.com/recipes/deep-dish-beef-n-bean-taco-pizza/