There's a YouTube channel I watch frequently from the very talented Julie Pacheco. If you haven't seen her recipe videos, I highly advise you to do so! Her meals are practical, convenient, and fun. Sometimes she posts videos that help you get the most out of particular ingredients. It's impressive! In a video for refrigerated pie crust, Julia showed this neat way of making hand pies using crust and blueberry pie filling. This grabbed my attention because it used very few ingredients. The hand pies looked divine, but I started wondering if I could make something similar to an apple pie using my air fryer instead of deep frying with oil.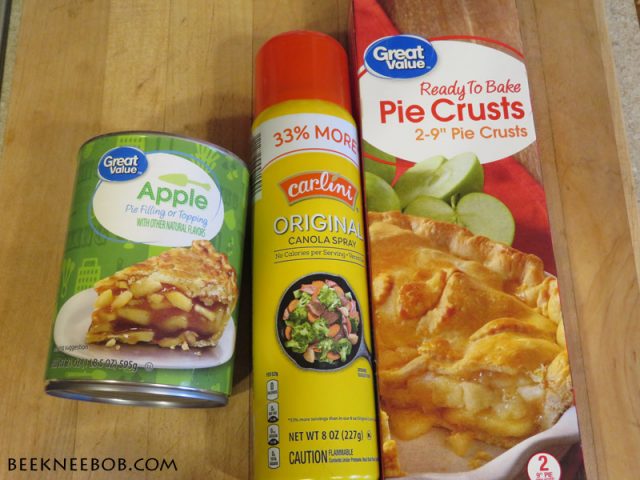 I decided to experiment using cooking spray, refrigerated pie crust, butter, cinnamon, and a can of apple pie filling.
My pie-making skills could certainly use some work, so the pictures below may not be as pretty as what you see elsewhere. But the recipe works, and I learned some tricks to help me next time!
I rolled out one of the pie crusts and used an old burger press to cut out circles. (If you don't have that, any circular lid or cookie cutter will do.) I recommend using a rolling pin to thin out the dough because the crust is thick to begin with.
My can of apple pie filling was 21 ounces, but trust me, you won't be using all of it. As I spooned filling to each disc of dough, I realized the apple slices were too big. I had to use a fork to cut them down. After placing a spoonful in the center of the dough, I took one side and folded it over, pressing the edges to seal. I know, I know, they look like sloppy wontons!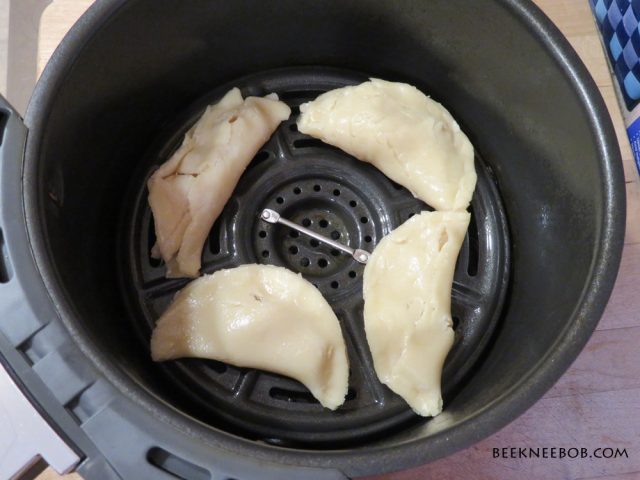 I preheated my air fryer to 350 degrees for 3 minutes and sprayed the inside with cooking spray. Try not to overlap the pies. I cooked them for 10 minutes at the same temperature or until the pies had a golden look.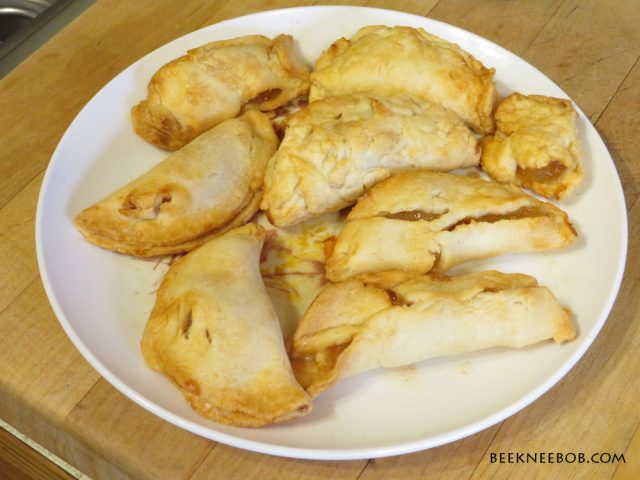 Once they were all cooked and cooling on a plate, I melted a few tablespoons of butter and sprinkled some cinnamon, drizzling over the tops of the pies.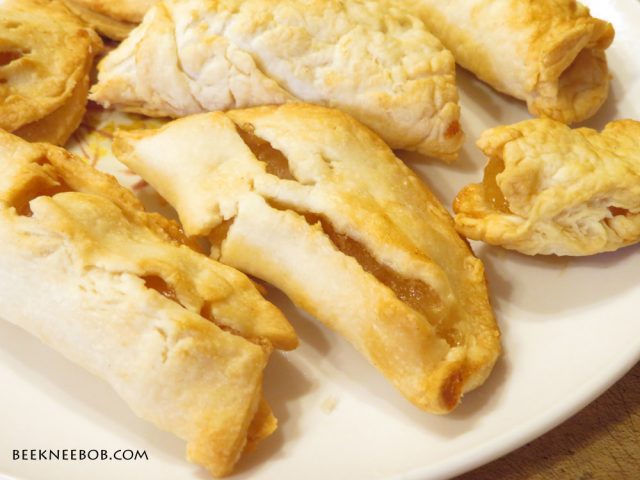 The good news is my household enjoyed this culinary experiment! The crispy crust and the filling came together nicely in the end with only a few minor mishaps. To recap:
Use a rolling pin to make the pie crust dough thinner and more pliable.
Big apple pieces are tough to handle when folding over the dough. Cut the slices down.
The pies aren't as sweet since the flavor of the crust is the most dominant. A sugary glaze made with powdered sugar would really elevate these!
What else could I have done differently? Would you use a different flavor other than apple? Let me know in the comments below.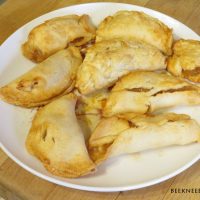 Print Recipe
Air Fryer Apple Pies
A very fast and convenient way to obtain all the familiar flavors of an apple pie!
Ingredients
1

refrigerated pie crust

1

can of apple pie filling

cooking spray

2

tbsp

melted butter

optional

1

tsp

cinnamon sugar

optional
Instructions
Remove refrigerated pie crust from package. Using a rolling pin, extend the circle of dough so that it's thinner and more pliable. Sprinkle with extra flour if necessary.

Use a round cookie cutter or lid to cut the dough into circles. Use leftover dough and rolling pin to create more if desired.

Add about a tablespoon of pie filling in the center of each dough circle. Fold one side of the circle over, sealing the edges with your fingers or a fork. If completely sealed, make 1 or 2 marks on top of each pie for proper cooking.

Preheat air fryer (based on your equipment's recommendation). Spray cooking spray on inside tray. Place each pie on the tray without overlapping. You can also use cooking spray on top of the pies. Depending on how many pies you're able to produce, you might have to cook in sets. Bake at 350 degrees for 10 minutes or until the pies are golden in color.

Once pies are cooked, allow them cool. Melt butter in microwave, mixing cinnamon sugar afterwards and pour carefully over the pies.
Notes
You can use any flavor of pie filling like blueberry or cherry!
If you're not into the butter/cinnamon topping, you can eat them plain or opt for a powdered sugar or caramel glaze.