Happy New Year one and all! 2022 is here and I thought I'd kick things off here on my blog with a new post. I recently got a chance to try a new line of flavored rice dishes by Rice-a-Roni called Heat & Eat. The rice comes in microwavable pouches and it takes only 90 seconds to cook. Currently, Rice-a-Roni offers three flavors of this new product: Herb & Butter, Spicy Spanish, and Garlic & Olive Oil.
I tried other brands of microwavable rice in the past, and the biggest issue I had with the convenient grains was the lack of moisture. The rice was almost always dry and lacking in flavor. Not to sound pessimistic, but I was expecting something similar with Heat & Eat by Rice-a-Roni. The good news is my track record with Rice-a-Roni has been fine so far. I always enjoyed their Creamy Four Cheese rice, both in boxed form and in microwavable single serve cups. Both versions were never dry.
Rice in general gives wannabe chefs like me a chance to experiment and dress up with other ingredients, so I decided to prepare each flavor of Rice-a-Roni's Heat & Eat Rice with additional flavors to both enhance and stretch the meal. I wanted to share what I did with each flavor – perhaps you'll find one of them appealing!
GARLIC & OLIVE OIL RICE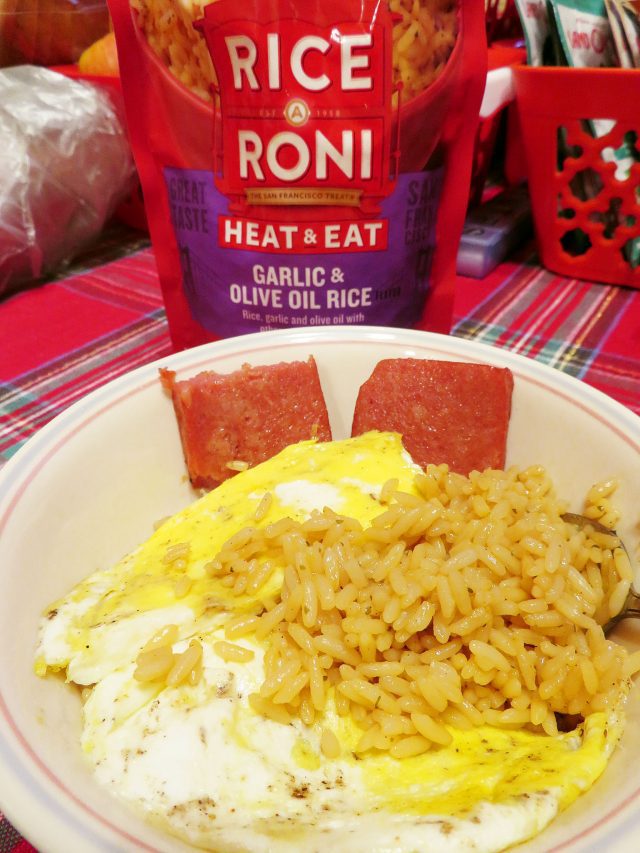 First up is Garlic & Olive Oil, and thanks to included oil, there was no way this rice could go dry! The olive oil moistened each grain with a light earthy aroma. The real flavor star is the garlic. It's not too strong but it was obvious from the moment I tore open the pouch that the garlic was going to steal the show.
For this flavor, I added a fried egg and some pieces of cooked Treet, a canned meat similar to Spam. Think of it as my tribute to Hawaii where Spam is enjoyed by many of its citizens. The egg grabbed a hold of the salty meat and the garlic from the rice and helped bring this dish to a satisfying full circle. This was my favorite!
HERB & BUTTER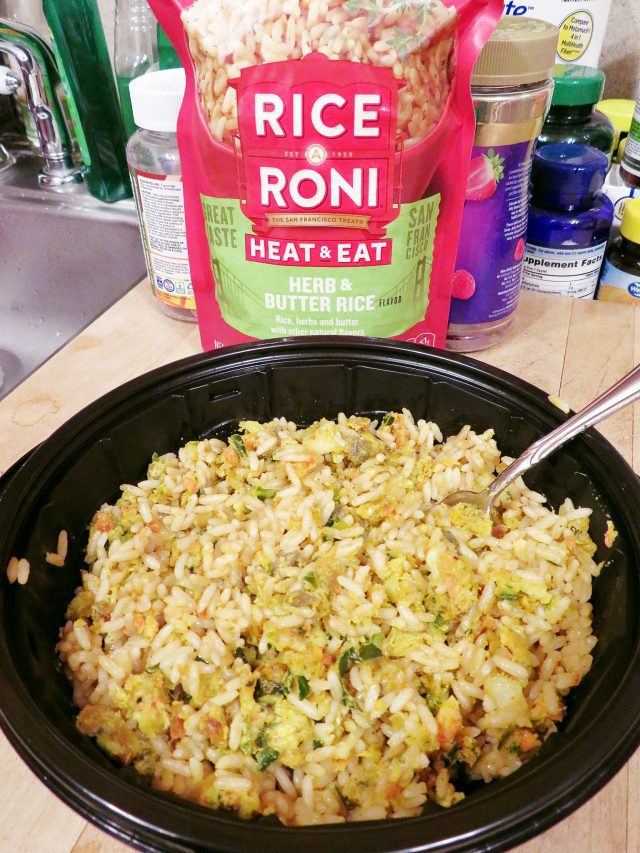 Much like the olive oil, the butter kept this rice moist. I couldn't quite figure out which herbs were involved in the making of this flavor, but the ingredients do list onion powder. I fixed some microwavable Indian veggie meatballs from my local dollar store and crushed and stirred them in with the rice. I tried the rice by itself and found it rather salty. The Herb & Butter blend, like the other flavors, contain a lot of sodium to begin with, but I think the culprit was the butter. I thought by adding the veggie meatballs it would help neutralize the salt content but they were salty too.
If I had to redo this dish, I would use the Herb & Butter rice as a plain side dish next to baked tilapia. I wouldn't recommend adding anything to this flavor, honestly.
SPICY SPANISH RICE
I was uncertain about this one, mainly because of the word "spicy." How spicy was it? It turns out, not at all. There's a little green bell pepper in the mix along with tomato, paprika, and other spices. One doesn't have to worry about dealing with flaming hot effects!
Figuring out what to add to this dish was a no-brainer. I love Spanish rice in burritos, but instead of tortillas, I prepared a big bowl of seasoned black beans and mixed the rice along with shredded cheddar cheese. All I can say is my lunch that day was a well seasoned and cheesy bliss.
CONCLUSION
In general, the prep work for Rice-a-Roni's Heat & Eat pouches couldn't be easier. Simply make a 2-inch tear at the top of the pouch, pop it in the microwave for 90 seconds, then let sit for a minute before fully opening and serving. All 3 flavors were moist, just like it would be in preparing rice the old-fashioned way except it's not time-consuming. My favorite flavor was the Spicy Spanish Rice, and the simplicity of the Garlic & Olive Oil opens the door to many serving ideas. I like the Herb & Butter too, but it would have to be paired with a milder food option since it's salty. Even though I opted to add ingredients, if one decides to eat the rice by itself, the pouch is portable enough to take on the go. I can see myself preparing the rice at work and eating straight out of the pouch!
Which flavor sounds the most appealing to you? What do you like to add to rice?
DISCLAIMER: The products featured in this post were received for free by Rice-a-Roni and Influenster in exchange for an honest review.