My second bag from Lip Monthly arrived in late November; for a moment, I thought something had happened to my subscription! A few people on Instagram complained the November bag was lacking, but I was pleasantly surprised by what I received.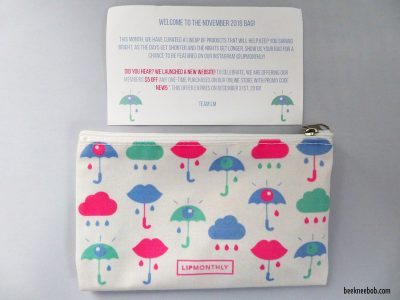 The bag itself confused me at first with it's images of rainy clouds and umbrellas. What does that have to do with November? I was expecting turkeys or cornucopias. The notecard promises the products "will help keep you shinning bright, as the days get shorter and the nights get longer." I like the color scheme and the lip-shaped umbrellas.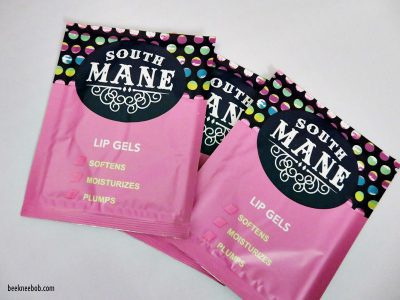 Inside were three (yes, 3!) lip gel masks from South Mane. The package explains to put the moistened lip-shaped gel mask to one's lips for 10 minutes for soft, moisturized, and plump lips. I tried one when my lips were particularly dry.
The mask was extremely slippery! I couldn't help but laugh at myself in the mirror. The mask contains a slit in the center for breathing, and the gel tastes like the Garnier Gel Moisturizer (yes, I know you're not supposed to eat the gel, but when it's so close to your mouth, it happens).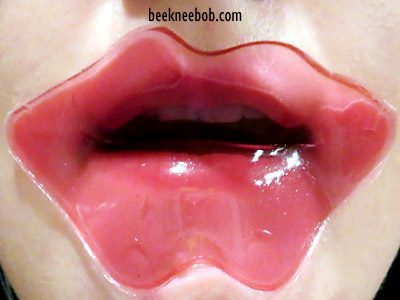 My lips felt tingly after application, and other than that, I didn't notice anything different about my lips. It was a funny experience, though.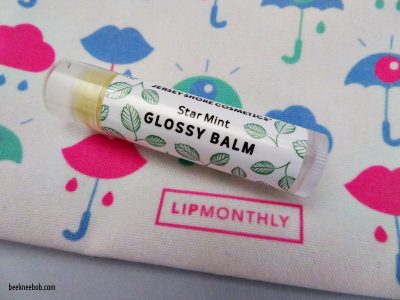 I'm a lip balm fanatic, so I was happy to get a new one for my collection. This one comes from Jersey Shore Cosmetics in Star Mint. I haven't tried it yet, but the color looks natural and similar to Carmex. The ingredients include sunflower oil, coconut oil, vitamin E, peppermint essential oil, and rosemary and calendula extracts.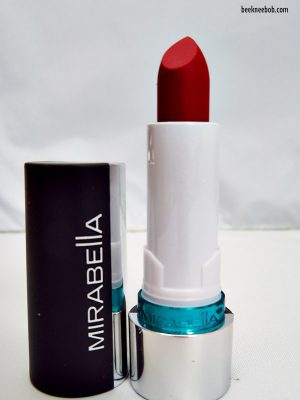 Of course, what's a Lip Monthly bag without lipstick? Mirabella Beauty is made in the U.S.A., and I received a lovely wine red shaded lipstick called "Vintage Vibe." It's not too red; the shade helps make my teeth look whiter.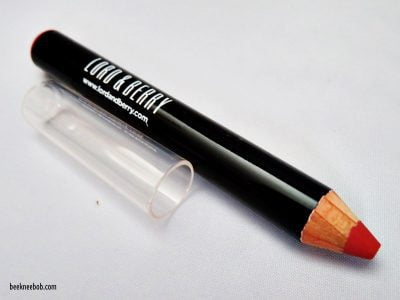 In my first Lip Monthly bag, I got a lip pencil from Lord & Berry. This month, I received a lip/blush crayon in "Rose." The shade reminds me a lot of the previous lipstick by Lip Monthly with it's coral/pink tones.
Here's a streak test of two of the products in the November 2018 bag. On top is the Lord & Berry lip crayon. Below is the Mirabella Vintage Vibe lipstick: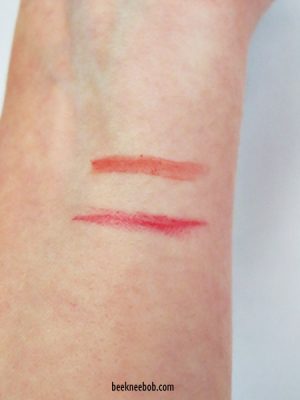 In all honesty, the only thing that disappointed me this month was the bag design. I wish the bag better coincided with November. However, it's a small complaint that doesn't really warrant a mention. The products inside are what matters most, and I am pleased with every single of one of them. I got to try a lip mask for the first time and I have a new organic lip balm for winter. The lipstick shade will definitely compliment my red-toned Christmas outfits this holiday season, and I look forward to using the crayon to add a little color to my cheeks and lips.