I was scrolling through some photographs from my family's Christmas festivities in 2019 when I found a few snapshots of a recipe I used for the first time. The recipe was for Easy Fudge Bites, a batch of rich and indulgent chocolate truffle-like candy from Martha Stewart Living magazine. The memory of making the dessert rebooted! I remember spending Christmas Eve melting and cooling a dark chocolate mixture before forming them into balls in a variety of coatings.
As much as I admire the work of the legendary Martha Stewart, I often find her recipes intimidating. Maybe I'm too quick to write them off as fancy and time-consuming. After reading the list of ingredients, instructions, and of course, the name (Easy Fudge Bites — I mean, hello?), I knew I was capable of bringing the chocolate concoction to my family's dessert table. If I can do it, trust me, you can too!
In the magazine, Martha Stewart incorporated coating ingredients like pistachios, but you can use whatever you like to give the fudge extra flavor. I used four different toppings to suit my tastes: crushed peppermints, cocoa powder, freeze-dried strawberries, and powdered sugar. The powdered sugar looked amazing at first but after a day, it looked dissolved and glazed. The winning flavor in my family was the cocoa powder! After rolling each "bite" in a topping, I placed them in individual mini muffin cups in a decorative container.
Check out the pictures below along with the recipe!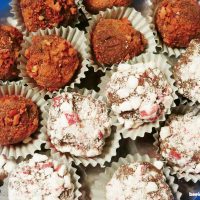 Print Recipe
Easy Fudge Bites
From Martha Stewart Living magazine (December 2019)
Equipment
9x9 inch cake pan

parchment paper

mini muffin cup liners (optional)

saucepan

rubber gloves
Ingredients
Cooking spray

4

tbsp

Unsalted butter

3

cups

mini marshmallows

(6 oz)

1 1/2

cups

granulated sugar

1/2

cup

whole milk

1/4

tsp

kosher salt

1

tsp

vanilla extract

12

oz

bittersweet chocolate

chopped peppermint, dried fruit, nuts, etc.
Instructions
Lightly spray pan with cooking spray. Line with 2 crisscrossed pieces of parchment, leaving a 2 inch overhang. Spray parchment.

In a saucepan, combine butter, marshmallows, sugar, milk, and salt. Cook over medium-high heat, stirring frequently, until marshmallows have melted, 6-7 minutes. Stir in vanilla. Remove from heat; stir in chocolate until melted. Pour mixture into prepared pan. Let cool 30 minutes, then refrigerate until set, at least 1 hour and up to 3 days.

Using overhang, lift fudge onto cutting board; cut into 1-inch squares. With rubber gloved hands, to prevent fudge from becoming too slippery and messy, roll into balls (if mixture is very cold, it may crumble a bit / just let it warm slightly first), then roll in desired toppings as you go.

Refrigerate until firm, 1 hour, or store in refrigerator in a single layer on a parchment-lined baking sheet wrapped in plastic up to 3 days.
Notes
Hint: Use mini muffin cup liners for each bite after rolling them in toppings. Original recipe can be found here: https://www.marthastewart.com/1544417/easy-fudge-bites
I know 2020 hasn't been easy for the majority of us and we may not be feeling so jolly right now. I completely understand if you're not in the mood to cook or bake or do any sort of yuletide celebrating at all due to the limitations bestowed upon us by the pandemic. So even if your usual Christmas plans are squashed by what's going on, I recommend finding some way to treat yourself this season. I'm not saying you have to make these fudge bites, but if you're in the mood for chocolate…
Well, maybe I am saying!
Wishing you a safe, healthy, and merry Christmas.