It's kind of strange to be stuck at home during a time of the year when so many events are set to launch. The COVID19 pandemic has forced us to spend these spring days indoors, which isn't so bad, although I miss celebrating Easter at church!
On Palm Sunday, I wanted to make the day a little more special for my family. Since church is closed, we had a Bible study in our living room. Then I decided for lunch to try a recipe I saw posted by various cooks on YouTube called "Butter Swim Biscuits."
Why Butter Swim Biscuits on Palm Sunday? I can't really explain why; it just sounded like a comfy, nurturing meal to have buttery bread with some gravy or jam. If you're looking for a Jesus connection, I suppose I could say these biscuits are baptized in butter!
Butter Swim Biscuits are pretty easy to put together, and best of all it doesn't require kneading or rolling out on a floured surface. (As much as I love homemade bread, I have a small kitchen and that can be hard to do!) They bake in the oven in a simple 8×8 inch square pan.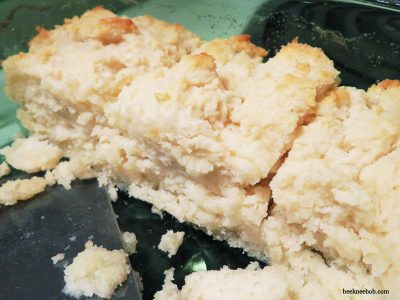 They turned out amazing! I was so caught up in their deliciousness that I forgot to snap pics (hence the leftover three biscuits)!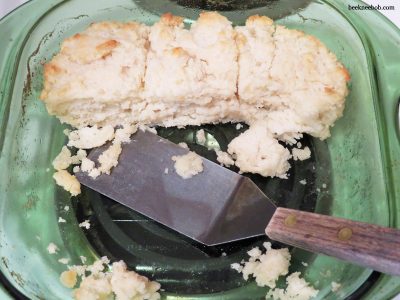 I used a pouch of powdered gravy mix that I prepared on the stove to serve with the biscuits. By themselves, the biscuits taste just as good because they are buttery to the max!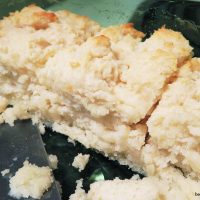 Print Recipe
Butter Swim Biscuits
Homemade biscuits infused with melted butter
Ingredients
2 1/2

cups

all purpose flour

4

tsp

baking powder

2

tsp

salt

2

tbsp

granulated sugar

4

tbsp

shortening

(or lard)

1 1/2

cups

cold buttermilk

8

tbsp

butter

(reserve1 tbsp for topping)
Instructions
Preheat oven to 450 degrees.

Mix first four dry ingredients (flour, baking powder, salt, and sugar). Cut shortening into mix until crumbled.

Melt butter in a microwave-safe dish. Add to an 8x8 square pan. Reserve 1 tablespoon for later.

Add buttermilk to dry mixture until a sticky, wet dough forms.

Spoon and spread dough mixture on top of the melted butter in the pan. Cut into 9 squares.

Bake for 20 minutes or until tops are golden.

Brush reserved butter on top of biscuits and let sit for 5 minutes or until all butter is absorbed.

Serve with jam, gravy, or by itself!