I'll be the first to admit I'm a creature of routine, especially when it comes to food. As an American, I hail from the land of hamburgers and hot dogs and I rarely venture into exploring cuisine from other cultures. I've gotten better in the last few years. When I started this website, I vowed to balance my interest in old favorites with fresh finds.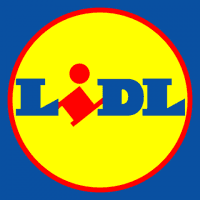 Here's where Lidl comes in! Like Aldi, Lidl is a discount grocery story based in Germany and quickly gaining traction in the United States for their line of affordable and high quality store brands. What I noticed in Lidl is their focus on multiple international foods, including Indian, Middle Eastern, and Asian. (Aldi also sells this but on a smaller scale)
While browsing Lidl's unique and varied frozen food aisle, I spotted a limited time product of empananda appetizers by Canadian company Chef Bombay. The image of the triangular bread stuffed with chicken reminded me of the time my high school friend made empanadas for her Spanish class and I gobbled up the leftovers! This was slightly different, because they weren't labeled empanadas but naanpanadas.
I've heard of Naan bread before; it's popular in India and kind of like pita bread. The full title for this product is "Mini Butter Chicken Naanpanadas." This is how my mind worked while in the store: "I like mini foods. I like butter. Chicken is yummy. Naanpanadas sound exotic." Did I mention I was staring at the last box in the freezer?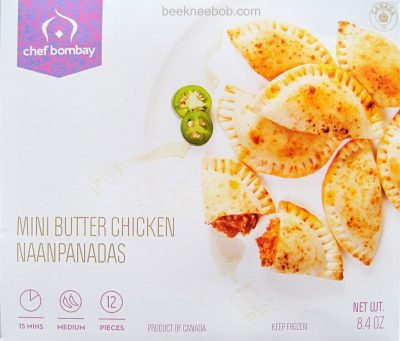 The box contains 12 pieces and takes about 15 minutes to bake. The breading is solid with crispy edges, but the real glowing review is for the stuffing. Pieces of white meat chicken are the heart of the filling, decorated with a variety of ingredients to give it an extra special kick similar to curry. According to the ingredient list on the box, the product contains onions, turmeric, mozzarella cheese, potatoes, crushed tomatoes, garlic, paprika, yogurt, butter, and fenugreek. The filling is by no means liquidy as I suspected butter would be too big of a component; the chicken absorbs most of the flavors inside the dough. Nothing oozed out during the cooking process, so the lack of messiness is a win.
I can't say I'm a daredevil when it comes to spicy foods. In my opinion, these naanpanadas have just the proper amount of spice in the aftertaste to stir your tastebuds and not make you run for a tall glass of water. The curry flavor is not something I fancy having everyday, but it's products like these that give this American lady a break from the ordinary. For $3.99, Chef Bombay's Mini Chicken Naanpanadas make great appetizers for a small gathering, or in my case, a fast and unique lunch experience at home!
———-