Fall is in the air, and like every seasonal change we may have to make adjustments to certain aspects of our routine to maintain good health. This is the time of year when pesky allergies creep in and our skin has to assimilate to temperature drops. Not everyone experiences this, but it never hurts to have a kit of products on standby to help during the weather transition. 
I have been a member of Influenster for over five years. If that name is new to you, Influenster is an online marketing service that teams up with brands and recruits product testers like me to try items, review them, and promote them on social media. Members receive exclusive products, packaged as "voxboxes," based on their demographics and activity. Most of the promotional work is completed using their specialized app. 
Last month I received their Fall Faves 2023 VoxBox, which contains five products in health and skincare, suitable for the autumn season. The box has a lot going for it, and I figured it would be fun to dive deeper and share my insights here too! As you can tell, it's been a long time since I posted something new on my site.
Included in the Fall Faves 2023 set are the following products:
Advil Dual Action
Keys Soulcare Truly Becoming Multi-Benefit Peptide Serum
Vimergy Organic Zinc Sulfate
Skin1004 Madagascar Centella Probio-Cica Enrich Cream
Zombie Beauty by Skin1004 – Pore Tightening & Lifting Pack
Let's take a look at the skincare items!
Skin1004:
Madagascar Centella Probio-Cica Enrich Cream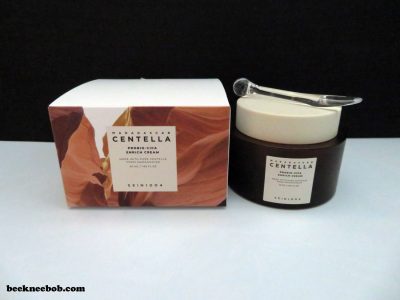 Skin1004 hails from South Korea and their beauty products are regarded as some of the best in the industry right now. The Influenster VoxBox sent me two complimentary products from the company! The Madagascar Centella Probio-Cica Enrich Cream is the second cream I've used from Skin1004, and it's very moisturizing. First, let's talk about the packaging – isn't it a beaut? I love the modern design of the earthy tones of the jar. This product also gets high marks for including a pretty spoon to gather the cream and apply. I can see why this product comes with a spatula; the cream's texture is thick and kind of stretchy!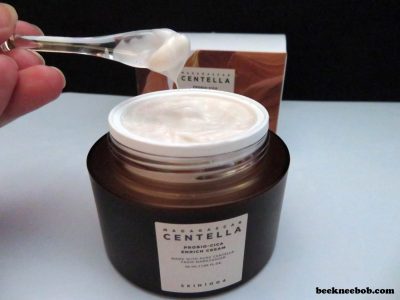 The key ingredient of Skin1004's Enrich Cream is Centella Asiatica, which is a herb found in Asia and used in many of their skincare items. It's known to provide relief to wounds and serve as an anti-inflammatory agent. Another key ingredient directly targeting the skin's barrier is ceramide NP.
My takeaway: If your skin is crying for moisture (dry, cold weather, hello!), the Madagascar Centella Probio-Cica Enrich Cream will swoop in with extra hydration and bonus repair work. Surprisingly, this cream looks and feels thick, once it meets the skin it's welcomed lightly with quick absorption.
Skin1004:
Zombie Pack (Mask)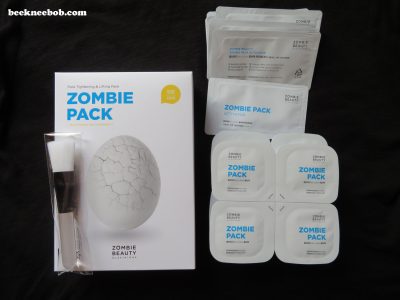 With Halloween in the not-too-distant future, it makes sense to include a product containing the name "zombie." Skin1004's Zombie Pack is a unique set with a multi-step process meant to tighten pores and brighten skin. The main ingredients here include egg white extract and arnica flower.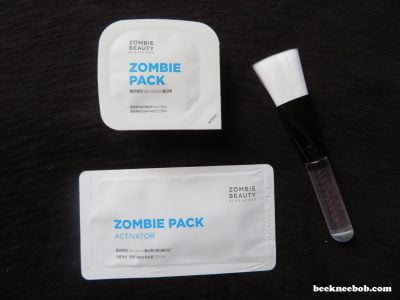 There's enough in the box for 8 uses! The little squares contain a powder and the pouches are filled with a liquid activator. You'll also find a handy brush for mixing and applying.

Don't let the multi-step process intimidate you. It's easy to pour the liquid into the powdered cup and mix. The smell of the combined ingredients is different, to say the least! It reminded me of ginger ale mostly, with a hint of eggs. I know that might not sound appealing, but I figured it's a good idea to give those a heads-up if they have sensory issues.
Once the parts are thoroughly combined, it's time to apply, and it couldn't be easier. The solution's color falls between off-white and light yellow, making it nearly invisible on the skin. But the sensation is instant. Since it's geared toward tightening pores, I could feel the effects within the first minute. The instructions say to leave the mask on between 10-15 minutes. Keep in mind this is not a peel-off mask! It's wise to rinse with plenty of water to return the mask to its original liquified state and wipe it away.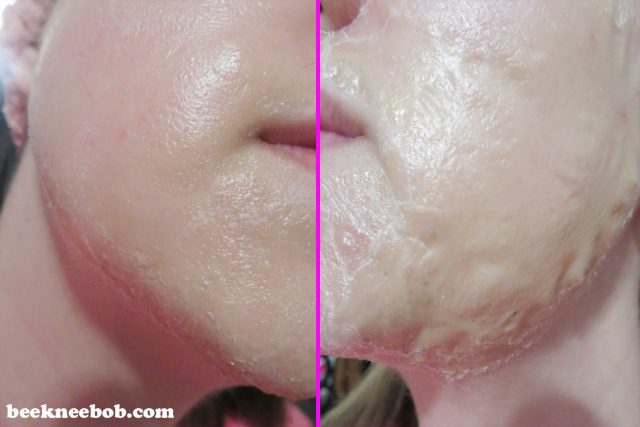 At first glance, I didn't see much of a difference in my skin after using the Zombie Pack. My cheeks looked a little pink and my skin felt somewhat smooth overall. During the application process, I managed to get some of the product on my fingers. For about a day, my fingers were very dry and irritated. The formula obviously does something! I can see myself using this product again, but I probably would wear disposable gloves next time. 
My takeaway: My skin is more normal than combination, meaning I only occasionally deal with oily and dry skin. The Zombie Pack by Skin1004 has properties that can help with drying and tightening, making it suitable for skincare users dealing with excess oil. Be careful not to get any of this product on your fingers, and make sure you wash the included brush, otherwise, the product will dry out the bristles. The scent of the powder and liquid mix might not be appealing to everyone.
Keys Soulcare:
Truly Becoming Multi-Benefit Peptide Serum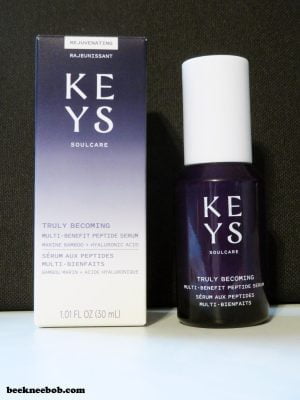 Moving to another brand, Keys Soulcare, this 3-year-old brand got its start thanks to a musical superstar, Alicia Keys. I found out recently that the brand is in partnership with a personal favorite, e.l.f. Cosmetics! Keys Soulcare is all about inclusivity and making sure their customers feel comfortable in their own skin. I've tried numerous serums over the years, and I've found that the best ones are unscented and have a combination of a creamy and gel-like texture. This is exactly what I got from the Truly Becoming Multi-Benefit Peptide Serum! Like most, this serum provides hydration as well as the proper combative ingredients to assist in lessening fine lines and wrinkles. I'm in the early stages of this, but it doesn't hurt to get a head start. I can use this serum both day and night, and it feels weightless. Did I mention the purple bottle? I love the purple bottle. 
My takeaway: If I had to make any assumptions about the brand after using this product, I'd say Keys Soulcare is ensuring skin care methods with popular ingredients can be gentle and nurturing. I will be paying closer attention to this brand as a result.
Health:
Advil Dual Action & Vimergy Liquid Zinc Sulfate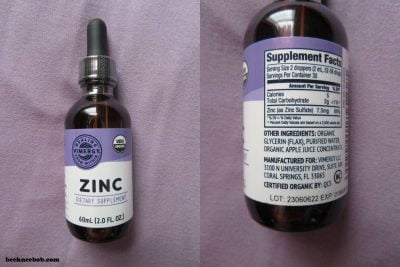 The final two products included in Influenster's Fall Faves for 2023 include a popular pain reliever and a liquid supplement. Advil Dual Action combines two tried and true medicines from over-the-counter: ibuprofen and acetaminophen. Both types are useful to me whenever I experience general pain or headaches, but to see the two combined in one is revelatory. The sample-sized product has me using these sparingly, but I will say I see myself using this whenever I experience a migraine and need something stronger. The organic Zinc Sulfate by Vimergy is packed in a bottle with an eyedropper tool as a quick way to prepare immunity. I immediately noticed that one of the ingredients is apple juice concentrate! Not all supplements are naturally tasty, so it's nice to have a fruit to make it more palatable.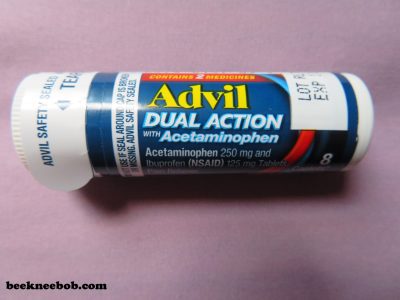 And that's the Fall Faves 2023 VoxBox from Influenster! This was a great box, and I'm happy to discover some new items and include them in my regimen.
If you would like to be part of Influenster and help brands through testing and promotion, check them out here!
Disclaimer: The products featured here are part of a promotional campaign and are incentivized. However, my opinions remain honest and are in accordance with Influenster's membership policy.