There are certain dishes I look forward to eating at places other than my home, like restaurants, church, and my grandmother's place. I say this because I've never been sure I could master the art of cooking certain foods in my own kitchen, so I reached a conclusion that I didn't have the skills, and that it was best for me to wait for the next invite to my grandmother's house for her famous baked spaghetti rather than try and make it myself.
Sad, huh? Well sad no more! Turns out making baked spaghetti isn't as daunting as I thought and it doesn't have to have a ton of ingredients to be delicious. From what I've been told, my grandmother's baked spaghetti is a massive process. I like recipes that are short and simple. And ladies and gents, I am proud to present my baked spaghetti casserole experiment, using leftover ingredients found in my kitchen.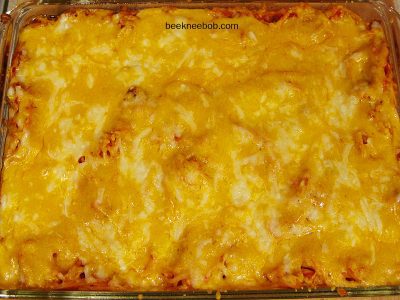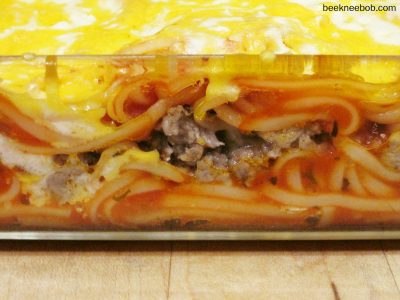 Print Recipe
5 Ingredient Baked Spaghetti
Ingredients
45

oz

pasta sauce

12

oz

linguine noodles

1

cup

shredded mozzarella cheese, divided

1

cup

shredded sharp cheddar cheese, divided

2

Ball Park microwavable burgers
Instructions
Preheat oven to 400 degrees. Grease a 13x9 baking dish. Prepare pasta as directed on box. While the pasta cooks, microwave both Ball Park burgers for 1 1/2 minutes. Pat dry to remove grease and crumble the meat. Set aside.

Once the noodles are cooked, add pasta sauce and stir until combined. Transfer half of noodle mixture to dish. Sprinkle the crumbled hamburger on top along with 1/2 cup of each shredded cheese. Add the rest of the spaghetti followed by the remaining 1/2 cups of cheeses. Bake for 15 minutes or until cheese is melted.
Notes
Barilla's Pronto Linguine is a no-drain noodle and one of the most convenient pastas on the market. If you cannot find it, you can use another brand of noodle and follow the package directions.
1/2 pound ground beef can be used in place of Ball Park microwavable burgers, but requires more prep time. Ball Park burgers are available in your local grocer's freezer in 6 packs at an average of $1 per burger.