I cannot remember where or when, but one time I tried the creamiest, most delectable peanut butter fudge. The flavor was just the right balance of sugary sweetness and nuts, and the fudge managed to hold a light texture, which is uncommon when we're talking about the thickness of an ingredient like peanut butter.
I often wondered what made this particular recipe so yummy. The answer: marshmallow creme! Of course, peanut butter and marshmallow, just like the famous New England sandwich, the Fluffernutter!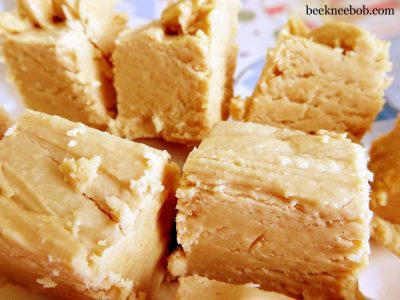 Since the holidays are creeping up on us, I'm sure some of you are looking for a quick sweet treat to serve to guests this season. I used this super simple peanut butter fudge recipe for my Christmas party last year and the results were a hit with my family and friends. I hope you'll consider using it too!
Did I mention the recipe only calls for 5 ingredients? Convinced yet? Scroll down for the printable recipe, and happy holidays!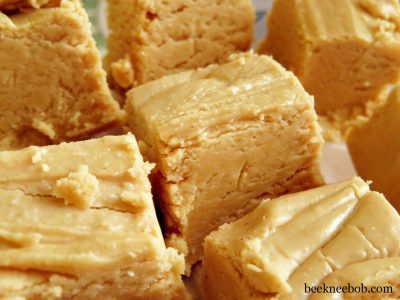 ---
Ingredients
2 tsp. butter, softened
2 cups sugar
1/2 cups whole milk
1 1/3 cups peanut butter
1 jar (7 oz.) marshmallow creme
Instructions
Line an 8-inch square pan with foil; grease with butter.
In a heavy saucepan, combine sugar and milk; boil and stir over medium heat, 3 minutes. Remove from heat.
Stir in peanut butter and creme. Spread into pan; cool slightly.
Refrigerate until firm. Using foil, lift fudge out of pan. Remove foil, cut fudge into squares. Store between layers of waxed paper in an airtight container.
Notes
http://beekneebob.com/recipe-easy-peanut-butter-fudge/